When you see tomorrow's post you'll see why I decided to remember this...
Please check out
two opportunities
for you to participate in here! Dinnertime, Again! and My GreenSpace! I'd love to hear from you!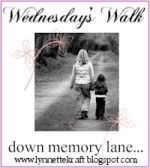 Ahoy, Maties!
We've graduated from fairy princesses straight to Pirates. Our beloved Captain, Grandma P bought us a pirate ship.
Truman Loves his new backyard playset he recieved for his birthday... Isabel loves it even more. When the box came she said, "Look Mom! Grandma P got us a PARK!"
Well, the PARK slide now slides into the baby pool which transformed it from a regular plaything to a vessel in the open ocean. And with a little lingo coaxing from the super fun, Aimee, Isabel now exclaims, "Arrg... I'm pirate Biz-a-bel!"
********
Isabel discovered how to work the sprayer on the hose, claiming to help Daddy water. I believe what she likes more is to water Daddy!
Here she is on our nature parade. We were going on a nature walk and on the way out the door she grabbed two metal pot lids for cymbals and marched all the way to Grandma Bonnies house.
Do you notice how often she wears those boots?