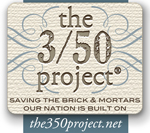 With the economy being what it is, we see more and more smaller stores going out of business. This was clearly evident on our recent trip to California— a once bustling and still small-store front part of town is now rows and rows of
empty store fronts
.
3/50 project
is putting this issue into perspective. Take a look at it here, go sign up and support your local economy. It's just that easy.
:::::::::
Congratulations are in order. It is the birthday of a dear friend, and a faithful blog reader. So go visit her and give her some birthday love at her
NEW etsy store
.
Here's a summer recipe we've shared and some links we've passed on.
Smoothie Pops


6 large strawberries, washed and hulled
1 banana
4 ice cubes
1 cup yogurt (any fruity flavor)
1/2 cup milk (If you want you can omit this)
1/2 cup fruit juice-- (I'd use orange, you can also use peach nectar...yum!)
Mix all ingredients in a blender until smooth. Pour into 3 oz. paper cups, cover with plastic wrap, and insert popsicle sticks. Freeze for at least 5 hours. Makes 12.
Other Links:
Love this site,
Lisa Hannigan
and
her video.
And
Veggie Trader!
Have you seen this
Design Mom photo shoot
in central park? I'm now thinking about getting my friend
Andrea
to make Izzo one of those flowered headbands, you see, she owns
this cute little place
.