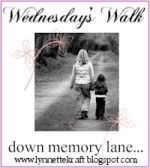 I'm joining with a group of other bloggers who capture their memories every Wednesday. I think it is a good idea to share our stories and show the realness in our lives beyond the craft projects and the recipes (which are wonderful!).
So here is a picture, about 2 years ago-- the one of the last days in the hospital, barely 6 lbs. Isn't it crazy how big he is now!
We were in the NICU for 11 days with him. After 2+ months of bed rest and pre-term labor. Truman was born 4 weeks early with underdeveloped lungs and pneumonia. It was an emotional roller coaster for those days. At day 5 they told us we'd be going home the next day, then day six same story, then day 7. I think I could classify day 7 as an full on freakout / breakdown. I told them that they should just surprise me the day he got to go home. Then I wouldn't pack my bags and the car every morning. So I chilled out, prayed a lot, held my breath and acted as normal as a mother can in that situation.
The day we were allowed to come home was just amazing. The hour and a half car ride with four (FOUR!) of us was just amazing. Both kids fell asleep, like they'd never slept before. You could almost feel the acutal hand of God guiding our car and our babe's home (and he was) it was just such a strong presence that day. Isabel had an especially hard time during these 11 days. She was not allowed in the NICU so she had a rotating list of family members and friends who stayed with her in the waiting room, at the campground, the giftshop... She was ready to be home— even more than the rest of us. She desperately needed her schedule and her familiar surroundings back. We were so lucky to have loving family around us. People just dropped what they had going on to come stay with us for three weeks. So blessed.
I'd been wanting to take my kids outside and do normal, everyday things. In those situations you crave normal, lazy, uncomplicated days. We loaded up the kids almost the second we got the car unpacked.
This is Truman's first trip to the park with Grandmommy. The day was perfect, not super hot, just a pleasant. I don't remember much about the afternoon except it was exactly what I wanted in life. My family around me and the world to feel simpler.
So here is a piece of my memories. Thanks for indulging me!
I'll leave you with the video I made as a Christmas gift for our families. It was very healing to put this together.